Last week I received a copy of Mike Laverick's new book: "Administering VMware Site Recovery Manager 5.0". Just in time actually since I was finishing a project with a customer where I implemented VMware vSphere 5 and VMware Site Recovery Manager 5.0. Gave me a great opportunity to check if the book would help me solve some issues I ran into while deploying SRM 5.0.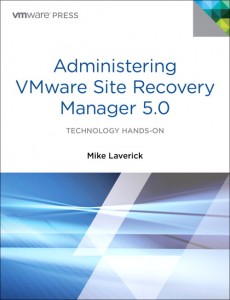 First let me start by saying that the book is very well written, as with the previous books Mike wrote. A very useful part is chapter 2 through 6 in which Mike walks with you through configuring replication for Dell EqualLogic, EMC Celerra, EMC Clariion, HP StorageWorks P4000 and NetApp SnapMirror. Very useful because these storage basics are essential for understanding VMware SRM much better.
In the next chapters Mike will guide you through the installation and configuration of VMware SRM, followed by a chapter on scripting site recovery. This chapter shows you how to create testing networks, add VMs to the inventory and resignaturing VMFS volumes from the command prompt. It contains some very valuable scripts. And last but not least, a chapter on how to upgrade from VMware SRM 4.1 to VMware SRM 5.0.
To answer my questions from the intro, yes I did get the answers I was looking for. During configuration I ran into some certificate issues which are discussed in the installation VMware SRM 5.0 and even the storage configuration questions I had were answered in the EMC Clariion chapter. If that ain't the ultimate proof that this is the book you need….
More details on "Administering VMware Site Recovery Manager 5.0" on the Pearson website.
Administering VMware Site Recovery Manager 5.0 By Michael Gordon Laverick
Published Dec 28, 2011 by VMware Press. Part of the VMware Press Technology series.
ISBN-10: 0-321-79992-5
ISBN-13: 978-0-321-79992-0